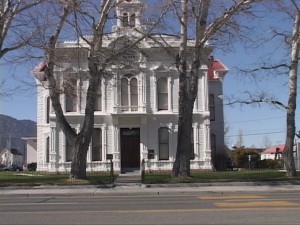 Mono County rules have prohibited political activity on the job by rank and file employees but not elected officials. That may change at today's Board meeting.
Supervisor Chair Larry Johnston raised the issue that Mono County should ban all workers from political activity on the job – elected or not. County Counsel Marshall Rudolph brought back a proposed ordinance that addresses that issue. Chapter 2.90 of County Code addresses political activities on county premises.
The rule forbids candidate or ballot measure activities by employees and elected officials on any property owned or leased by Mono County. Normal board meeting activities and events at County facilities are permitted.
In other Board matters, the Supervisors will consider comments that will go to the U.S. Fish and Wildlife Service about critical habitat designation for two types of frogs and the Yosemite Toad. The Board's main complaint is failure to consider all economic impacts.
Their comments point out that a large percentage of Mono employment relates directly or indirectly to tourism revenue. They say the environmental assessment on the habitat designation does not address these impacts. The Board suggests exclusion of front country lakes and high day use wilderness corridors from the proposed habitat restrictions.
And on a complimentary note, the Mammoth Lakes Salvation Army sent the Board a letter commending and thanking Mono Paramedics for their volunteer food drive in Mammoth which was met with "an overwhelming response." There was enough food for the Salvation Army Food Pantry, the Mono Social Services Food Pantry and for Mammoth Mountain employees. Salvation Army's co-chairmen, Carol Balliet and Roger Barker said, "We commend them for all they do that goes unseen and thank them for their service."