The Mono Supervisors were in agreement when discussing the county-wide disaster drill that was held on August 23rd. Their opinion was that it definitely resembled a disaster–a communications disaster, that is.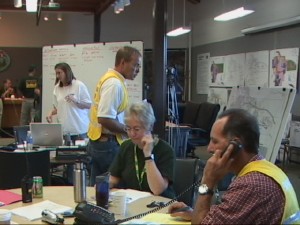 Supervisors commented that there were great shortfalls in communications and coordination. Although they had been asked to make themselves available for the drill, they were surprised to be largely excluded from the operation.
Supervisor Hap Hazard was appalled when he was refused entry into the Emergency Operations Center in Mammoth. Hazard said that county code establishes that the Board of Supervisors is part of the emergency team, and went on to say that anyone obstructing him from performing his lawful duty was actually committing a crime. In a real emergency, Hazard said he would "bring the full extent of the law to bear against anyone who stands between me and my District."
Although the Supervisors were briefed on activity within their District, Hazard wanted the information in real time. He said Supervisors "have the right, and duty to know what is happening in our districts." Hazard also felt the scenario was not realistic, as there were no calls emerging from his district, just a few miles from the disaster.
Other Supervisors expressed varying levels of frustration, but none so severe as Hazard's. Mammoth's Byng Hunt was "disappointed in the Supervisor's role," saying that he spent the drill sitting around reading the newspaper.
North County Supervisor Bill Reid said the post-disaster critique that was offered in Bridgeport was totally inadequate. He was only given a short period of time to write down his concerns, and although he wanted "an honest, objective critique," what he got was "kumbaya."
County CAO Dave Wilbrecht explained that the purpose of the drill was to identify problems, and work through them. He said all the information is being rounded up, and will be presented to the board in coming weeks.
Wilbrecht said there were some "weak points" in the communications system. At one point, County Public Health Officer Rick Johnson had to walk to the Mammoth Hospital to complete his portion of the drill, as phone systems weren't working. Other issues stalled communications between key players in the north and south ends of the county. Wilbrecht said similar communications issues were to blame last winter, when motorists couldn't seem to get accurate information on road closures.
Sheriff Rick Scholl was not here during the disaster drill, but said that there "appeared to be some deficiencies in coordination and communication." Scholl said the next step is to figure out where it worked, and where it needs improvement.
One area where improvement can be made, Scholl said, is in specifying the role of the Supervisors. "The Supervisors should not be involved in the operations," Scholl said. "They need to be present to make resolutions," he added, "but the EOC is no place for politicians."