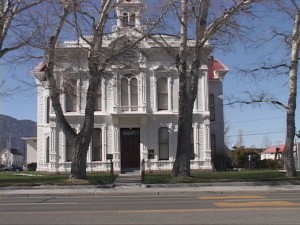 This week, the Mono Supervisors will work on the new fiscal year budget. They scheduled a special meeting for a Budget Workshop today at 9am in Bridgeport. Their regular agenda Tuesday calls for a vote on the recommended, but not final, 2014-2015 budget. The Supervisors also have a three-hour Budget Workshop agendized for Tuesday, and another special meeting Thursday will require continued budget discussion.
In a letter to the Supervisors, County Administrator Jim Leddy and Finance Director Leslie Chapman write that the County is "at a crossroads where we must decide what we will do and not do. The two officials say that at this time, Mono County lacks the capacity to make innovative changes.
Their letter says the County has to "cut to balance; we need more resources to invest in the highest return." They say the County departments have sought ways to provide status quo services with fewer resources and "because of that, our employees continue to sacrifice. We are at a crossroad," say Leddy and Chapman, "where we cannot keep simply reducing without surrendering our service levels."
The recommended budget totals nearly $66 million. $35 million of that is the General Fund. There are 281 filled Full Time Equivalents. The officials say there is barely an investment in roads, less focus on "smart public safety services" and no provision for strengthening economic development. In short, they say, it means maintenance of responsiveness from government but not foresight.
You can check out the letter and budget details here – http://monocounty.ca.gov/sites/default/files/fileattachments/auditor_-_controller/page/2950/2014-15_budget_workshop.pdf
On another note, at the Board's regular meeting Tuesday, officials will consider a letter of support for residents of Paradise. The agenda says they have suffered phone service problems for a decade with static, dropped calls and sometimes a complete lack of service. This involves basic Verizon land-line service. 98 residents have signed a petition that will go to the Public Utilities Commission. The Board will consider a letter to the PUC too.