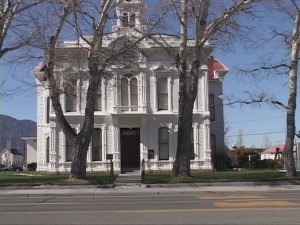 When Mono County Sheriff Rick Scholl retires December 20th, he recommends that the Mono Supervisors appoint his Undersheriff Ralph Obenberger to fill his unexpired term as Sheriff-Coroner.
The Supervisors were expected to make an appointment at their meeting on Tuesday. The first item on their regular agenda is appointment to fill the unexpired term of Sheriff Rick Scholl which continues until December 2014.
In a memo to the Supervisors, Sheriff Scholl recommends appointment of Undersheriff Obenberger. Scholl also says "It is imperative that the County have a person in place as the Sheriff-Coroner to perform all mandated functions and responsibilities as required in the Government Code."
Sheriff Scholl points out that Obenberger has worked as Undersheriff for nearly five years, as Chief Deputy Coroner and as the Jail Administrator along with "many other duties and assignments."
The Supervisors' agenda says there is no increase or decrease to the current budget as a result of an appointment, but, the agenda says, there could be "savings realized with the realignment of the management positions within the Sheriff's Office."
Other items on Tuesday's agenda include a proposed ordinance that would change Mono County Code pertaining to public use of Conway Ranch. The County Counsel will also offer a proposed resolution making some changes in the County license agreement with California Broadband Cooperative for use of County land in the Digital 395 project.
The Supervisors had also scheduled a public hearing on the White Mountain Estates Specific Plan Amendment and other proposed changes including elimination of recreation fees and housing mitigation requirements.