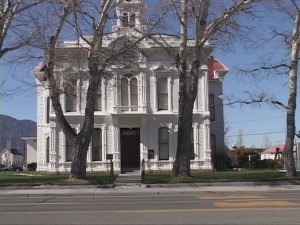 When the Mono Supervisors sit down to meet Tuesday, they will look at a letter from Verizon Wireless.  It's a notice about a cell tower project in Crowley Lake – one of the cell phone dead zones in the Eastern Sierra.  This time, the project would go up on Department of Water and Power land, not in the middle of a neighborhood like the earlier, failed cell phone project.
Then, it's on to three claims for damages, filed by James Spencer Jennings, Jimmy Lee Kerby and Richard Luman.  Recent news about Luman's firing from his job as County mechanic and his failed appeal hearing revealed Luman's gripes about County management. He alleged Mono officials failed to deal with a hostile work environment which led to what he described as an attack by a management worker.
Jim Kerby was reportedly disciplined for saying he witnessed Luman being assaulted by a Road Department supervisor.  The twisted plot now goes further with these claims which the Supervisors will likely reject.  Lawsuits could follow.
The Board will review how they want Senior Services to be delivered to Mono County.  Supervisor Hap Hazard wants the Board to oppose Senate Bill 1221 which would prohibit use of a dog to hunt or pursue a bear or bobcat. At the end of the meeting will come the issue of the day – closure of June Mountain. The Supervisors will talk about legal and financial impacts and possible marketing and economic development help to the community of June Lake.
Tuesday evening at 7pm at the June Lake Community Center, the June Lake Citizens Advisory Committee will meet to talk about the same issues and how the people might survive in the absence of the town's main winter tourist attraction.  Talk is also pointed at how to save June Mountain.