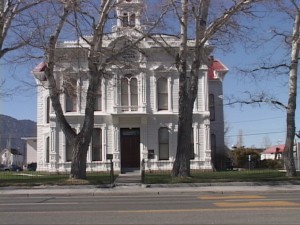 Last week the Mammoth Town Council wanted to know if CHP headquarters in Bridgeport could be moved to Mammoth. The CHP Lieutenant said it was doubtful. This week, the Mono Supervisors will likely approve a letter to the CHP Commissioner encouraging retention of the CHP office in Bridgeport. The letter will also suggest that the County work cooperatively with the State to make northern Mono County an attractive location.
In other Board items Tuesday, the Supervisors were expected to make appointments of Jack Shipley and Barbara Wanner to the board of the Mono City Fire Protection District. And, they planned to consider appointment of Paul McFarland to the Mono Basin Regional Advisory Planning Committee.
Also before the Board – a contract to hire Brad Braaten as Deputy District Attorney III. The cost of the position for the rest of this fiscal year is around $42,227. Total cost for a full fiscal year next year would be close to $169,000.
In the Assessor's Department, Assessor Bob Musil will offer a proposed resolution that would authorize him to use the County website to provide property value notices. This move would save around $1500 in postage annually. Musil will also discuss the possibility of filing Business Property Statements online.
The Supervisors will consider including unincorporated areas of Mono County into what is called the California HERO program to finance distributed generation renewable energy sources, energy and water efficiency improvements and electric vehicle charging infrastructure.
The last item on the somewhat short agenda shows the Board in a closed session with legal Counsel on the litigation involving inland Aquaculture Group LLC versus Mono County.