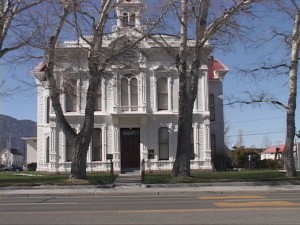 In a special meeting Tuesday, the Mono Supervisors were expected to approve a letter to the Public Utility Commission complaining that Verizon failed to meet the deadline to provide broadband internet service to Crowley Lake and Swall Meadows.
Last August the California Public Utilities Commission adopted a resolution which granted Verizon $286,398 to buy equipment to complete the internet project. The targeted completion date was Monday, January 28, 2013. Last week, Verizon requested a twelve week extension. County officials said Verizon claimed a delay in another upgrade needed for the Mono County project has caused a delay for Crowley and Swall.
The requirement to provide the small communities with expanded internet service was actually a penalty in lieu of a fine as result of Verizon over-heading a fiber optic line within the Highway 395 Scenic Corridor without prior approval.
The Mono Board's proposed letter says Verizon's time extension request is "unreasonable, unnecessary, and should be denied." Officials point out that residents have anticipated the DSL service for eighteen months and "have been told multiple times that the project was on track." Mono County's GIS Coordinator Nate Greenberg wrote a letter to the PUC to suggest that the penalty imposed on Verizon for failure to complete the project on time should be service to the community of Paradise.
And on another broadband issue, Praxis officials, building Digital 395, planned to ask Mono County for permission to remove snow on Green Creek and Dunderberg Meadow Roads to access vaults to install fiber optic cable before February 15th when Sage Grouse begin to nest there.
The Mono Board also scheduled closed sessions. In one of those private sessions, Supervisors were set to discuss what to do about the lack of an Interim County Administrator. Last week board members said they might call on a current employee to fill in when CAO Jim Arkens leaves at the end of the week. Then, they would look for an official Interim CAO and proceed with the selection process of a permanent CAO.
The Board also scheduled a closed session regarding the Director of Facilities and Risk Management. That is Rita Sherman, who announced her retirement as of February 5th.