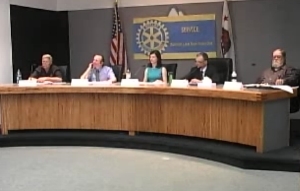 Earlier this month, the Mammoth Noon Rotary Club gathered Mono County Supervisor candidates and questioned them as one large group as part of a County Candidates Forum. Included were District 5 candidates Greg Eckert, Kirk Stapp, and Stacy Corless along with District 1 candidates Larry Johnston and Bill Sauser. Rick Phelps asked the questions.
Candidates were asked to respond the question about ORMAT's plans for geothermal development in Mammoth Lakes and what the Board of Supervisors could do to protect the resources of the County.
Stacy Corless of District 5 said that Mammoth Community Water District has expressed concerns about the impacts of ORMAT's wells on the town drinking water. She said that as a Supervisor, she would do all she can on this. Corless said she would work with BLM Manager Steve Nelson and demand a plan with concerns in mind. She also pointed to recreation impacts with "twelve new wells industrializing the forest" at Shady Rest.
Kirk Stapp of District 5 said the whole thing comes down to a monitoring plan with triggers if there are impacts to groundwater. He said BLM's manager would come up with it and that there must be political support – the Town and County – behind the Water District to get a monitoring plan with triggers. Stapp said there is already gas escaping in the area and trees dying. He said underground aquifers are connected. "If the town wells shut down," he said, "Mammoth shuts down." Stapp said as a Supervisor he would stand behind the Water District.
Greg Eckert of District 5 said Mammoth is nothing without water. He said he would rather lose Mammoth Mountain than the town's water. Eckert called Mammoth's geology "pre-fracked" with connections between aquifers. He advocated monitoring. "When X happens, Y stops," said Eckert. "Without that, they can't do it." He said more trees are dying over a wider area.
Larry Johnston of District 1 said, "The only thing standing in the way of a potential debacle is the Air Pollution Control District Officer. I sit on the APCD Board." Johnston said he has spoken out on this issue and called ORMAT's plans "inappropriate without a monitoring system in place." He said, "When the Water District is satisfied, I'll be satisfied." To those who would say ORMAT will provide jobs, taxes and resources, Johnston said, "It's no good if we have nothing to drink here."
Bill Sauser of District 1 said the amount of acre feet ORMAT will draw out "is huge. This will have effects on recreation. They are mining steam. They need to mitigate the effects on the forest." He said it's not right that the company wants to move the snowmobile trailhead. Said Sauser, "If they are the cause, they should mitigate the effect." He said someone at the County level should be dedicated to this issue.
We will have more on remarks from the County Supervisor candidates in later stories.