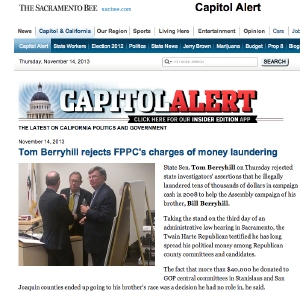 In an administrative law hearing in Sacramento, Mono County's State Senator Tom Berryhill denied assertions that he illegally laundered more than $40,000 in campaign funds to help his brother's Assembly campaign.
According to the Sacramento Bee, the California Fair Political Practices Commssion claims Senator Berryhill and his brother Bill Berryhill "orchestrated the money shifts in the closing days of the fall 2008 campaign." The FPPC says the brothers' plan was to "bypass individual contribution limits of $3,600 per election." The Bee reported that County committees could give $30,200 to candidates but coordination is prohibited.
The Sacramento Bee reported that Berryhill claims that the fact that more than $40,000 he donated to Republican central committees in Stanislaus and San Joauin counties ended up going to his brother's race "was a decision he had no role in." The FPPC contends that the Berryhills orchestrated the donation.
The hearing continues this week. The FPPC attorneys were scheduled to cross-examine Berryhill this week, and former Republican leader Mike Villines was also scheduled to testify.
Bill Berryhill did win the 2008 election but lost a race for state Senate last year. He too is scheduled to testify at the hearing this week.