– Mono County Sheriff's Office press release
On the afternoon of Sunday, June 30, 2013, at approximately 1:30pm, Mono County Sheriff's Dispatch received a call regarding an injured climber in the Clark Canyon area.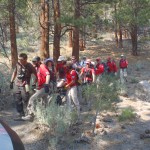 A 59-year-old climber, from San Francisco, CA, was reported injured while climbing in the Clark Canyon area. The Mono County Sheriff's Search and Rescue (SAR) team and Mono County Paramedics were called out to aid in the rescue of the injured climber.
The female climber was climbing the "Al's Garage" climbing route when she dislocated her hip. She experienced extreme pain and was unable to continue the climb. Her climbing partner was able to lower her to the ground where it was determined she would be unable to walk. Her climbing partner called 911 and asked for carryout assistance.
The paramedics and a SAR ground team were able to hike to her location. She was splinted and then evacuated by wheeled litter where Mono County Paramedics transported her to Mammoth Hospital for further treatment.
Written and prepared by: Jennifer Hansen, Public Information Officer