Mono Sheriff's officers and other police faced a tough situation at Mono City Tuesday afternoon. A local woman had
reportedly been drinking for several days, had taken a gun from a man who said she might be suicidal.
Officers maneuvered the delicate balance of trying to save the woman's life but also deal with the fact that she may have committed crimes. Mono County Undersheriff Ralph Obenberger talked to Jonah Matthewson who was on scene for Sierra Wave. He said that at about 2pm Tuesday a man called deputies to say that a female had possibly committed suicide. He said the reporting party stated he was missing a .45 caliber handgun and believed the female had taken the weapon.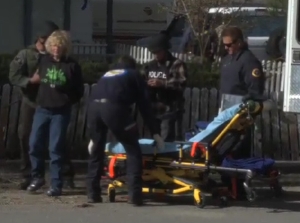 Undersheriff Obenberger said that the reporting party searched for the suspect female's vehicle and it was ultimately located at a residence in Mono City where the reporting party believed the female may have committed suicide. Deputies rushed to the home in Mono City.
We talked more with Undersheriff Obenberger after the incident. He said that the woman had broken into the house through a back door. He said that after deputies tried to talk to the woman and she responded with yelling and expletives, officers tried to contact her by cell phone and blow horn. There was no response. The MONET Tactical Team came to the scene with AR -15s and handguns. They came up with a plan, used a percussion device, known as a flash bang distraction device, to divert the suspect's attention and went in through the back door. The Undersheriff said the woman as lying on the couch with a loaded .45 within her reach. He said she apparently resisted arrest and hurt her shoulder.
Officers took the woman to Mammoth Hospital. Obenberger said her blood alcohol was "very high". Her identity is being withheld pending a mental health evaluation. If the woman is determined not to be a mental health case, she will face possible criminal charges of burglary and grand theft.
At the scene in Mono City were numerous Mono County Sheriff's deputies, Mammoth Lakes Police, California Highway Patrol and Mono County Paramedics.