Mono Sheriff Rick Scholl reports that he is working on finding state funding to build a new county jail. The Sheriff has not committed to a specific location.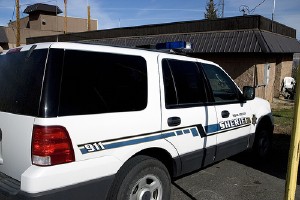 At the Annual Conference of the California State Sheriffs Association, Scholl reports that he had a one on one meeting with the former Assistant Secretary of the California Department of Corrections and Rehabilitation in which the two discussed a new jail facility and how Mono County can compete with larger agencies with a much greater need.
Scholl says that after the discussions, I felt confident that Mono County will be able to compete with other agencies for potential funding of upwards of $15 million for the future design and building of a new jail facility.
While the jail in Bridgeport has long been recognized as having problems, there has also been debate on whether or not to move the jail to another location such as Mammoth Lakes. Sheriff Scholl says that at this time the county is not looking at any specific locations.
Sheriff Scholl says that he is set to continue meetings with officials in the near future to maximize the amount of money for Mono County.