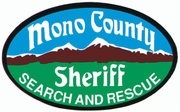 Search and Rescue Team Operation: Aid to an injured hiker on the Rush Creek Trail
On the afternoon of Monday, May 12, 2014, at approximately 2:45 pm, Mono County Sheriff's Dispatch received a call regarding a hiker with an ankle injury on the Rush Creek Trail.
A female hiker, age 34, of Berkeley, CA, was hiking on the Rush Creek Trail out of Tuolumne Meadows when she twisted her ankle on some rocks and fell to the ground. Upon attempting to walk, she was unable to put weight on her ankle, was experiencing high levels of pain and was unable to continue the hike. A fellow group of hikers called 911 for assistance. The Mono County Sheriff's Search and Rescue (SAR) Team was dispatched to aid the injured hiker. SAR ground teams were able to hike to the victim's location and safely evacuate her via a wheeled litter. She was taken to her car at Tuolumne Meadows were her fellow hikers took her to seek further medical treatment for her injured ankle.
Written and prepared by Jennifer M. Hansen, Public Information Officer