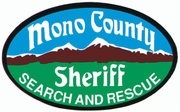 On the afternoon of Saturday, August 2, 2014, at approximately 3:00pm, Mono County Sheriff's Dispatch received a call regarding a father-son climbing team stranded on Mt. Ritter.
A father and son climbing team had attempted to summit Mt. Ritter, a popular peak located 13 miles northwest of Mammoth Lakes. The climbing team had reached a point on their descent that was blocked by a waterfall. They were unable to continue their descent from the peak due to the high volume of water coming down the steep slope. The Mono County Sheriff's Search and Rescue (SAR) Team was called to aid the stranded climbing team.
The SAR Team responded, along with a California Highway Patrol H40 helicopter based in Auburn, CA. The helicopter inserted a two-person search and rescue climbing team in the valley 400 feet below the father and son. Due to favorable weather and wind conditions, the helicopter was able to hover over the father and son, and with the assistance of the SAR Team, was able to load them into the helicopter while maintaining a hover next to the rock ledge where the climbers were stranded. The H40 crew flew the uninjured climbers to the Mammoth/Yosemite Airport and then returned to the scene to extract the SAR members.