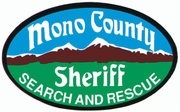 Search and Rescue (SAR) Team provides mutual aid to local agencies 
On January 18, 2013, the Mono County Sheriff Search and Rescue (SAR) Team responded to a call for a 41 year-old, local resident, who was reported to be in need of help in the snow above the Sherwin Creek Road.
The SAR Team responded, as well as Mammoth Lakes Fire Department, Mono County Paramedics, Mammoth Lakes Police Department, Forest Service, and Mono County Sheriff deputies.  Search teams looked for tracks by snowmobile, and dog teams searched for scent.  Searchers on a snowmobile located the subject lying in the snow.  Mono County Paramedics were transported by SAR Team snowmobiles to the location of the woman.
The patient was given warm clothing and heat packs and was transported by a snowmobile-towed toboggan to the road, and from there, to Mammoth Hospital by ambulance for treatment.