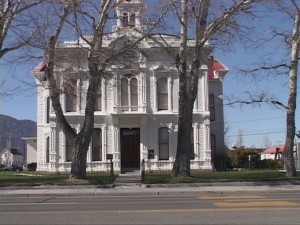 With the 2010 census and growth in population, Mono County faces the change of political boundaries for Board of Supervisor districts. A citizens' committee has held meetings for public input and came up with three alternatives.  The big issue is Mammoth Lakes, where 60% of the people live, and how much power the Town will have on the Board of Supervisors, which will hold a public hearing Tuesday on this issue.
The Supervisors start their regular meeting in Bridgeport at 9am.  The re-districting issue comes up as item number 9(a) with no specific time. The Board will take public testimony and then narrow down the existing list of three alternatives to the one with the most support.  The Board will hold a second hearing, possibly at their August 9 meeting.
Go to www.monocounty.ca.gov/redistricting to view the alternatives.  Alternative A would include three Mammoth districts and two unincorporated area districts.  Alternative B includes two core Mammoth districts, one core unincorporated district and two split districts.  Alternative C shows one core Mammoth district and four radiating districts that touch Mammoth.
John Vallejo, Deputy Mono County Counsel, said that the idea is equal representation in districts.  However, the law does allow some discrepancies in population in districts in the consideration of topography, geography, compactness of territory and communities of interest.