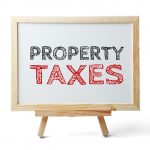 MONO PROPERTY TAXES DUE TOMORROW!  LATE FEES/PENALTIES CAN BE WAIVED
Due to the COVID-19 emergency declaration, the deadline for filing income taxes has been pushed back to July 15. But, the final payment on Mono County property taxes, due April 10, can't be deferred by any entity other than the California legislature. The one allowance: there is a path to waive any fees and penalties for late payments.
The process was explained in detail at Tuesday's Mono County Board of Supervisors. The State legislature has the authority to push back the deadline, but the body won't be in session until May.
The most relevant example of circumstances that could warrant a waiver is "disaster such as fire, flood, earthquake or civic unrest that prevents taxpayer from making timely payment."
District 2 Supervisor Fred Stump followed up Wednesday with a detailed e-mail as well as some of the visuals used at the meeting. Unfortunately, the waiver is dependent on residents paying their property taxes, with any penalties and fines for late payment. If the request for a waiver is granted, the penalties and fines go away. A good idea for those making late payments: send one check for the tax, a second one for the potentially waived penalties.
(Please note the message and graphics below provided courtesy of Mono County 2nd District Supervisor Fred Stump BELOW) 
[pdf-embedder url="http://sierrawave.net/wp-content/uploads/2020/04/Update-on-Mono-County-Property-Taxes-by-District-2-Supervisor-Fred-Stump.pdf" title="Update on Mono County Property Taxes by District 2 Supervisor Fred Stump"]
[pdf-embedder url="http://sierrawave.net/wp-content/uploads/2020/04/Property-Tax-Apportionment.pdf" title="Property Tax Apportionment"]