After nearly five hours of public testimony and debate by the Mono Planning Commissioners, a 3 to 2 vote put an end to a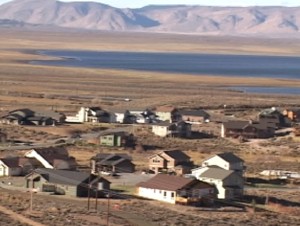 cell phone tower project for the Crowley community. The proponents can appeal to the Board of Supervisors.
Incline Partners had leased land owned by snowboard star, Tommy Czeshin, in Crowley. They planned to erect as many as two towers for two cell phone carriers on each tower. Cell service would mean good news for Crowley where currently there is none, but residents near the planned towers went loudly public with grave concerns over bad visual impacts and fears of health risks from the antennas.
Those residents made their case at last Thursdays meeting. Before that Health Officer Dr. Rick Johnson made it clear that current studies show no association between any health outcome and radiofrequency electromagnetic field exposure from cell phone stations. Dr. Johnson called it strong evidence. He did say data for long-term effects remains scarce. Dr. Johnson noted that local government has no authority to regulate RF emissions. Johnson added that he was asked not to attend the public meeting on cell towers since "health concerns can not be used by local government to influence a decision."
Mono Planning Commissioners found other reasons to deny the cell tower project. They found visual impacts unacceptable with setbacks too close to homes. Three commissioners objected to the location but recognized the need for cell service.
Commissioners Chris Lizza, Steve Shipley and Mary Piperski voted yes on a motion to deny the use permit for the project. Commissioners Scott Bush and Dan Roberts voted no.