A Bishop woman called police in a kind of panic over the week-end. She told officers that a man had held her at knife point. The man, 29 year old Anthony Andreas, formerly of Mono County, had passed out in an apartment. Inyo's Special Enforcement Team acted fast and made the arrest.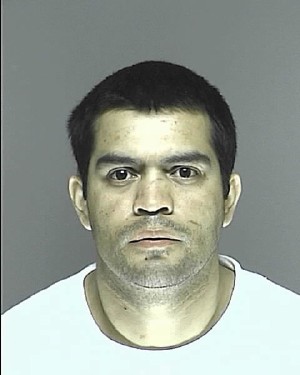 Sheriff's Sergeant Jeff Hollowell said that Andreas was taken into custody without incident. He said that Andreas had been considered a parolee at large since December. Andreas was paroled on a charge of possession of stolen property.
The specially trained unified team of Bishop Police officers and Inyo Sheriff's deputies and investigators rushed the Primrose Lane Apartments around 10am Saturday when the suspect was just waking up. Inyo officers had earlier looked for Andreas on a domestic violence case two weeks ago.
Andreas was booked into the Inyo County jail on several felony charges – criminal threats, attempted rape, burglary, false imprisonment, domestic battery, assault with a deadly weapon and parole violation. Andreas remained jailed on a parole hold and on $100,000 bail for local charges.