Mono County Sheriff's Office press release
On December 8, 2016, Orlando Mejia, Deputy Probation Officer III, of Mono County Probation, was bestowed the Central Region Employee of the Year Award from the Chief Probation Officers of California.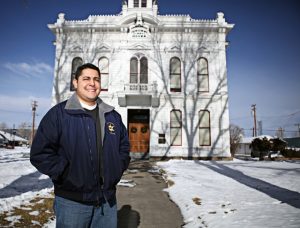 The award represents meritorious service by one employee within the five regions of California. Central Region is comprised of Mono, Inyo, Stanislaus, Sonoma, Kern, Tuolumne, Fresno, Kings, Merced, San Luis Obispo, Tulare, Madera, and Mariposa counties.
Officer Mejia was awarded this prestigious award for his meritorious service and dedication to excellence.  Officer Mejia is Mono County's Juvenile Probation Officer. Being a juvenile officer entails many diverse duties taking him throughout our county as well as others to visit Mono County youth in treatment.  Officer Mejia performs 20-30% more duties than other county juvenile officers as he covers jobs that would ordinarily be performed by several officers.
Officer Mejia's tireless work has resulted in a reduction of juvenile petitions, a decrease in youth under formal supervision, reduced youth recidivism by 40% and reduced number of probation officer requested detainments.
Officer Mejia is also involved in the County's Racial and Ethnic Disparity Initiative endeavoring to increase diversion programs and alternatives to detention.  He is also directly involved in California's change in child Care reform, Continuum of Care Reform (CCR).
Mono County Superior Court Presiding Judge Stan Eller recently commented "Orlando is a tireless advocate for his juvenile probationers.  He consistently goes the extra mile to ensure each ward gets the full benefit of probation services.  Those kids are very fortunate to have Mr. Mejia as their probation officer.  It is a very deserving award."