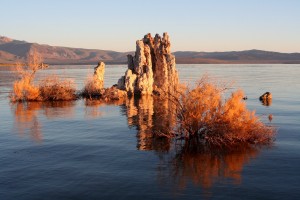 A sustained public-letter writing campaign to keep the Mono Lake State Tufa Reserve open continues through the Mono Lake Committee and others. This, in the face of state budget cuts.  According to the Committee's director, they are optimistic about the Reserve remaining open under a new user-fee program.
State budget problems led to the State Parks Department move to close some 70 state parks, including the Reserve.  Geoff McQuilkin, Executive Director of the Mono Lake Committee, posted an update on their website.  In it he says that the State has still not provided an analysis on the proposed closure of the Reserve.  If closure takes place next year, two major visitor access points to the lake would close, ranger programs would end and so would scientific studies and film projects at Mono Lake.  More significantly to the Lee Vining community, visitors planning trips would likely choose other destinations.
McQuilkin said the Committee has hand-delivered over 4,000 letters that support the Reserve remaining open.  He also said that Mono County's two state legislators have visited the Reserve and that Governor Brown and State Parks Director Coleman also made private trips to the lake.  "They are well aware," said McQuilkin, "that they need to help move solutions forward that remove Mono Lake from the closure list."
The solution may be a user fee.  Currently, the more than a quarter of a million visitors each year pay no fees to the State.  The South Tufa fees go to the Forest Service.  McQuilkin said that State Parks Administrators are very receptive to a user fee which could help keep the Reserve and lake open.
McQuilkin said that the concept under discussion is a per vehicle parking fee at the Old Marina site next year.  Collection would be a self-pay system.  The money would go to the non-profit Bodie Foundation which is a partner organization with Mono Lake.  The Foundation would collect the fees and keep the money locally for the Reserve.  The Mono Lake Committee remains optimistic.