For some time now, those who wanted to really get a firsthand look at Mono Lake could get that look from a boat tour. Captain Tom Crowe of Mono Lake Boat Tours had said he would no longer do business with the State Parks Department, but Tuesday a Parks official told us that Crowe has re-contacted Parks headquarters and now does want to negotiate a deal.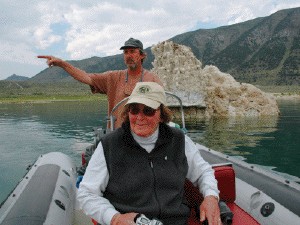 Crowe's website had blamed State Parks the Mono Lake Committee for his decision to call it quits. He said that the Parks System refused to issue an operating permit to him for 2009. Crowe claimed that he has had to "nearly beg every year to have my permit renewed."
Mono Lake Committee director Geoff McQuilkin denied any attempt to close down the boat tours. Quite the opposite. McQuilkin said that the Committee supported the program as a way to experience Mono Lake and referred business to the boat tours.
Pam Armas, District Superintendent for the Sierra District of the California State Parks Department told us that Crowe had stopped negotiations on a concessionaire agreement and told Senator Dave Cox's office that he would not do business with State Parks.
Armas said that recently Crowe got in touch with Park's headquarters and said he would like to have an agreement to operate the boat tours. Armas said Parks officials would contact Crowe for possible meeting dates.
We have been unable to reach Tom Crowe directly for his comment.