Three weeks ago, pounding rain blew into the Eastern Sierra and flooded the Mono County Jail. A roof project made the buildings vulnerable to the rain, and water in the entire facility caused closure of the Mono County jail. Officials say rehab work is on schedule.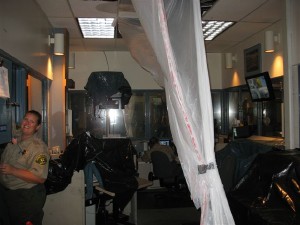 A press release from the Mono County Sheriff's Department says that the jail remains closed but rehabilitation to the interior of the facility is on schedule and nearly complete. Officials said dispatch operations are currently on schedule to move back into the facility on Thursday.
Jail inmates housed in Eldorado County will return to Mono County Jail on Monday, November 9th. In fact, the jail is expected to be fully operational on Monday. Presumably, Mono county prisoners now housed in the Inyo County jail will return to Bridgeport shortly after that.
For the last three weeks, Mono County has transported inmates in Independence to court in Mammoth Lakes and back.