"Mono In The Movies" DVD Collection adds eight new titles
A collection of major films shot on location in Mono County has added eight additional titles to its catalog. The "Mono in the Movies" DVD collection is housed at the June Lake Library, and each DVD is available for checkout from any Mono County branch library.   
The collection now contains 23 Mono County-filmed DVD titles; from the 1924 silent picture, Thundering Hoofs, to 2013's Oblivion staring Tom Cruise.
Amateur film historian and frequent Eastern Sierra visitor, Ken Harrison, has been acquiring the DVD's over the last three years. He has a list of 56 possible film titles provided by the Mono County Film Commission, Lone Pine Film Museum, and Internet Movie Database (IMDb). Long time residents have also contributed to the list.
After acquiring a DVD, Harrison researches the locations used, local trivia surrounding the film, and history of the film and it's actors. He also writes a brief dissertation, which is included in each DVD case. Also noted is the DVD's time marker, so one can scan to the location shots.
Harrison says each branch of the Mono County Library has his "search" list of films he's still looking for. Residents with knowledge of a film's shooting location are invited to contact him at [email protected].  Donations for additional acquisitions may be directed to the June Lake Friends of the Library – earmarked for the "Mono in the Movies" collection.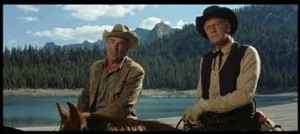 The latest additions to the "Mono in the Movies" DVD collection;
Fair Wind to Java – 1953 
Long-time Lee Vining residents remember seeing the tall ships sailing Mono Lake and the volcano set. The film starred then hunk Fred MacMurray, 15 years before he became a do-good'er dad for Disney and My Three Sons.
Ride the High Country – 1962
Western film icons Randolph Scott and Joel McCrea both retired after this picture, stating this was the best movie they would ever make. What MGM thought would be only a Drive-In "B" western, critics and fans turned into one of the genre's greatest classics.
Jinxed – 1982
Filmed almost entirely in Carson City/Reno areas, the crew was able to film Bette Milder inside the old schoolhouse and other buildings in Bodie – what would never be allowed today.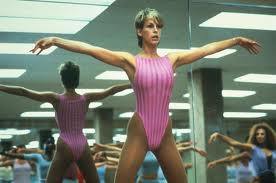 Perfect – 1985
One of John Travolta's failed attempts to keep his then falling star shinning. Mammoth Mountain got their first "product placement" in this film. Fans of a young Jamie Lee Curtis will want to watch her "prefect" aerobic performance, over, and over, and over again!
The Golden Child – 1986
This film put Mono County on the map with Hollywood studios. A 100+ crew of locals rallied around Eddie Murphy's 10-day shooting schedule, which required equipment and livestock to be hauled up the mountain, all done in a freezing blizzard. Mono County became a serious filming destination after this film.
Big Girls Don't Cry – 1991
Film mostly at Lake Mary, this is Mono County's biggest flop. The female Ferris Bueller-type plot of unknown actors only grossed $271,000 in three weeks and was quickly pulled and buried from theaters.
For the Boys – 1991
Bette Milder and James Caan briefly use snowy Mono County environs as war-torn Korea in this Golden Globe-winning film, which follows the life of two big stars as they perform for troops in WWII, Korea, and Viet Nam.
Surviving Christmas – 2004
The typical snow-play scenes are why Hollywood loves shooting in Mono County – it's nearby, and actors love getting out of the studio sound stages. This film was in Ben Affleck's "Jennifer Lopez-girlfriend" era, which some say, caused this film to be forgettable.
DVD Collection at the June Lake Library
Available To Checkout at Any Mono County Library Branch
1924 Thundering Hoofs Fred Thomson Mammoth Creek
1929 Hell's Heroes Charles Bickford Bodie
1938 Marco Polo Gary Cooper Mono Lake
1940 Return of Frank James Henry Fonda Convict Lake
1946 Road to Utopia Hope & Crosby June Lake
1947 Out of the Past Robert Mitchum Bridgeport
1953 Fair Wind to Java Fred MacMurray Mono Lake
1962 Ride the High Country Randolph Scott High Sierras
1966 Nevada Smith Steve McQueen Hot Creek
1969 True Grit John Wayne Hot Creek
1973 High Plains Drifter Clint Eastwood Mono Lake
1981 First Monday in October Walter Matthau Silver Lake
1982 Jinxed Bette Milder Bodie
1984 Indiana Jones/Temple of Doom Harrison Ford Mammoth Mtn
1985 Perfect John Travolta Mammoth Lodge
1986 The Golden Child Eddie Murphy Minarets
1989 Born on the 4th of July Tom Cruise Mammoth Mtn
1991 Big Girls Don't Cry Hillary Wolfe Lake Mary
1991 For the Boys Bette Milder Crowley
2002 xXx Vin Diesel Convict Lake
2004 Surviving Christmas Ben Affleck McCoy Station
2007 Alvin & The Chipmunks Jason Lee Oh! Ridge
2013 Oblivion Tom Cruise Silver Lake
DVD Collection as of July 2014