– Press release
Two years ago, frequent June Lake visitor Ken Harrison and librarians Vineca Hess and Janet Carle were sitting around the June Lake library and someone mentioned, "Wouldn't it be a neat idea to have a collection of films shot in Mono County?"
Together they came up with seven films they knew had used the uniqueness of Mono County as a filming location.
Ken went back home and started researching. With the help of Chris Langley of the Lone Pine Film History Museum, current and former Mono County Film Commissioners Alicia Vennos and Jim Vanko, and the Internet Movie Database (IMDb), they have come up with a list of 57 films.
Over the last year, Ken viewed films he could find on Netflix, trying to identify the locations used. He wrote a brief guide on each, exploring local production trivia, actors, or locations used. Then he'd try to purchase the DVD on e-Bay or Amazon.
"Several of the films have come from Japan or Korea," says Ken, pointing out that those countries tend to release different DVD genres than Hollywood.
The library now has a collection of ten DVD's, available to check out through any Mono County library branch. Harrison hopes to add at least four DVD's to the collection each year.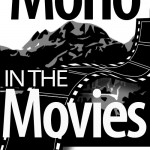 Sometimes its just 30 seconds of screen time for Mono County, but it means that the stars and crew spent days, if not weeks, on location here.
 The earliest known Mono County film is the 1921 silent production of The Silent Call, which used Mammoth as a location. No known prints of this film have been found. The latest is Tom Cruise's 2013 Oblivion filmed at Silver Lake.
Last November, Harrison presented a movie night sponsored by the June Lake Historical Society. Over 10% of the town showed up to watch Hell's Heroes, a 1929 Universal Picture filmed in Bodie. He had thoroughly researched interesting facts about the actors and production – the town shots were all pre-1932 fire. A possible Mono County film festival has been talked about for the fall of 2014.
###
DVD Collection housed at the
June Lake Library
Available for checkout at any Mono County Library Branch
1929 Hell's Heroes Charles Bickford Bodie
1938 Marco Polo Gary Cooper Mono Lake
1947 Out of the Past Robert Mitchum Bridgeport
1966 Nevada Smith Steve McQueen Hot Creek
1969 True Grit John Wayne Hot Creek
1973 High Plains Drifter Clint Eastwood Mono Lake
1981 First Monday in October Walter Matthau Silver Lake
1989 Born on the 4th of July Tom Cruise Mammoth Mtn
2002 xXx Vin Diesel Convict Lake
2007 Alvin & The Chipmunks Jason Lee Oh! Ridge