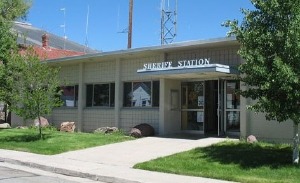 The Mono County 2012-2013 Grand Jury Report is out. One of the investigations involved someone who complained about an alleged illegal search and excessive force by the Mono County Sheriff's Department. The Jury found that allegations agains the Sheriff's Department were "unfounded based upon all available evidence."
The Jury did investigate the allegations that an officer used an excessive amount of pepper spray and denied paramedic transport of the complainant to the hospital. The complainant also alleged that an officer illegally obtained evidence without probable cause.
The Jury found that officers did have probable cause to search the occupants and their vehicle. They also found that officers followed guidelines in Sheriff's Department Policy 300. The Jury Report said Sheriff vehicles carry a first aid kit and water to counteract effects of pepper spray. So, they concluded, medical attention was provided.
The Jury Report did say that the complainant had resisted officers' repeated directions to vacate the vehicle. The Report says the complainant was removed from the vehicle but care provided was not captured on camera. The Jury recommended that whenever possible, officers contact with individuals should be captured on camera and that dialogue from visual and audio tapes should be transcribed and included in reports when applicable.
The Jury Report said from viewing the video tape, it was difficult to tell how much pepper spray was used. They recommend development of a system to document when a canister of pepper spray is issued to an officer and when it has been depleted. Again, the Jury concluded that allegations against the Sheriff's Department were "unfounded based upon all available evidence."