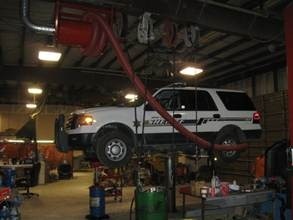 (Mono County Press Release)
The Mono County Facilities Department is pleased to announce the completion of the exhaust pollution removal system installations at all of our County Road Shops (Walker, Bridgeport, Lee Vining, Benton, and Crowley Lake).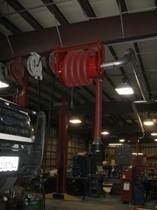 These systems will address two significant issues which are the reduction of air pollution, and the waste of energy. It will directly reduce air pollution by filtering exhaust emissions through an air purification system and indirectly reduce energy usage by allowing the shop doors to be closed while working on running vehicles. The system attaches a flexible hose to the exhaust of vehicles in the shops capturing 100 % of the vehicles emissions which are then channeled to an in-line filtration system.
The installation of these systems in our road shops will be a welcome addition to both the environment as well as to the shop employees.
These pieces of equipment were acquired through a grant from the Clean Air Projects Program (CAPP), a joint project of the Great Basin Unified Air Pollution Control District and Los Angeles Department of Water and Power.
For more information you may visit the website:   http://capp.gbuapcd.org