Earlier this summer, several dog owners reported to local veterinarians and the Mono Environmental Health Department that their pets had become ill after swimming in some local lakes.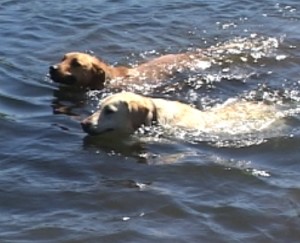 Mono Environmental Health Director Louis Molina said that his office did investigate those public concerns. He said they focused on potential blue-green algae poisoning. Molina said they found no confirmed problem.
Director Molina said that they did receive anecdotal reports of dogs with illnesses and some with convulsions after swimming in June Lake and Convict Lake. He said to be on the safe side, his office checked for algae toxins at June Lake. Molina said there was no detectable problem.
Some local dog owners had contacted us this week with concerns about the earlier reports. We also spoke with Mammoth Lakes veterinarian Dr. Gaylon Teslaa. He told us that he was aware of some dogs with central nervous system symptoms and that algae toxins were suspected.
Dr. Teslaa said that at least three dogs had developed seizures after drinking local lake water. All tests were negative, he said, for detectable disease. No other cases have turned up since the original reports in the first half of June, according to the doctor.