Press release
Mono County Probation was awarded a grant in October of 2015 for the implementation of a Drug Court program.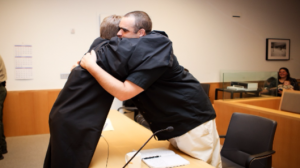 Drug Court is a collaborative Court that focuses its attention on the participant and their sobriety.
The agencies involved in this Court are the Mono County Superior Court, Mono County Probation Department, Mono County District Attorney's Office, Mono County Behavioral Health Department, and the Public Defenders.
These agencies alter their focus and traditional roles to assist people who have entered the criminal Courts due to underlying addictions.
The first participant enrolled in the program on July 21, 2015. This participant experienced the expected difficulties that many face while trying to maintain a sober life, completing an intensive program, and dealing with the day to day problems and tasks we all face.
On July 19, 2016, he had the courage to go before the Mono County Board of Supervisors and talked about his journey through Drug Court. He was approximately 75% of the way through the program when the presentation occurred. On January 25, 2017, he graduated from the program with 363 days clean from drugs and alcohol.
Instead of continuing the "revolving door" process of going in and out of the custody, he now has the tools to remain clean and sober, be a contributing community member, good father, and good husband.
The Mission of the Mono County Drug Court: "To connect defendants who have a substantial substance abuse addiction to treatment in the community in order to enhance public safety, reduce recidivism, to provide alternative dispositions to criminal charges that take into consideration the individuals substance abuse, mental and physical health, and the seriousness of the offense."