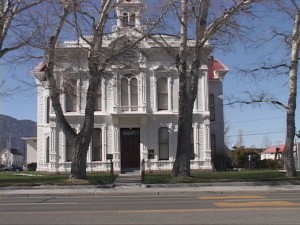 In a claim for damages filed Monday against Mono County and Mono Sheriff's officers, attorneys for Deputy Jon Madrid allege systematic retaliation against their client for blowing the whistle on illegal behavior and policies in the Sheriff's Department.
The claim goes against Mono County, the Sheriff's Department, Sheriff Ralph Obenberger and former Lieutenant David O'Hara individually, along with many others, including former Sheriff Rick Scholl. If the Board of Supervisors denies the claim, Madrid's lawyers say they will file a lawsuit.
The claim says that in the last several years, Madrid engaged in numerous acts of whistle-blowing to expose wrongdoing by employees of the Mono Sheriff's Department, including mishandling of jail inmate medications and falsification of a report. The claim alleges that in response to his Lieutenant O'Hara "issued a written directive to Madrid that he not report crimes or emergencies or personally render assistance to those in need while off-duty." The claim says O'Hara told Madrid, "Short of a homicide, you will refrain from reporting minor incidents to dispatch. You will also refrain from intervening in minor incidents while off duty."
The claim says Madrid was denied his Advanced P.O.S.T. Certificate and pay increase in retaliation for his whistle-blowing. The claim goes on to say that O'Hara was overheard threatening Madrid's job. It says Madrid reported this to then Undersheriff Obenberger who took no action. The claim says O'Hara was overheard saying, "It's time to play whack-a-mole with Madrid."
Attorneys for Madrid claim that Sheriff's administration took several actions based on retaliation, including interrogation of Madrid about his personal finances and relationships, gradual elimination of his special assignments and finally accusations that Madrid claimed ten hours of time he never worked.
Madrid was eventually terminated but called back to the Department to sit in a chair all day with no gun, badge or ID. Madrid finally appealed his firing. The claim says Sheriff Obenberger then sent Madrid a letter accusing him of abandoning his job even though Madrid's physician ordered him off work and out of the chair.
An Arbitrator recently cleared Madrid of any wrongdoing and ordered his reinstatement with all pay. The County has so far not obeyed the order. Madrid's claim says, "Defendants' unreasonable refusal to reinstate Madrid, as ordered by a mutually agreed-upon arbitrator, is further evidence of Defendants' harassment and retaliation against Madrid."
The claim asks for all unlawfully withheld wages and benefits and all damages plus recovery of attorney's fees and costs. Neither Sheriff Obenberger nor former Sheriff Scholl has responded to our questions about the claim.