Though Mammoth Lakes citizens voted in favor of two marijuana dispensaries in Town, the Mono District Attorney and a representative of the U.S. Attorney's office will meet to discuss dispensary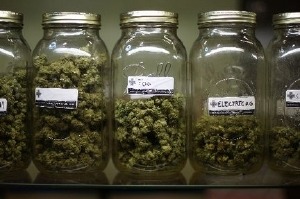 enforcement.
Informed sources in Mammoth Lakes told the Sierra Wave that this meeting will take place.  When called to confirm this information, Mammoth Lakes Police Chief Dan Watson said, "I understand that the DA will meet with the U. S. Attorney for this area.  They have been meeting with all of the DA's," said Watson.  Watson also said that a member of the Mammoth Town Council had made an inquiry about this situation.
When contacted about this report, Assistant Mono District Attorney Tim Kendall said this: "All 34 counties that are represented in the Eastern District have been invited to a sit down with the U.S. Attorney for the Eastern District.  This invitation has been extended to the DA's in the other Districts as well.  This get-together is for the purpose of discussing the Fed's position on the operation of dispensaries.  This invite was prompted because the Feds failure to disclose to any of the DA's in California about their recent decision to get involved again in the marijuana arena.   Mono County will be attending this meeting."
In a phone call with Steve Klassen, owner of Green Mammoth dispensary, Klassen said he fears an effort of a shut-down.  Klassen said, "This will turn our patients into criminals."  Klassen said his interest has been to "do everything legally" based on the statement that President Obama would not use federal resources to crack down on medical marijuana in the states.  Klassen said he did what he was supposed to do – went to the local government and went through the legal processes.
When contacted about this issue, Mammoth Town Councilman Skip Harvey said, "I hope that our local government officials at least respect the vote of our people in this area."  Harvey said that's the bigger issue, and he said he hopes the court system and legal system work through this without too many people hurt.
We placed a call and an email to the Mono District Attorney and his Assistant Tim Kendall to determine if they had initiated this meeting with the U.S. Attorney.  That is, as yet, unconfirmed.
Attorney General Kamala Harris has opposed an "overly broad federal enforcement campaign" by U.S. Attorneys.  She said they should concentrate on major drug traffickers and not deprive legitimate patients of their medicine.
Earlier this month, Police Chief Watson had said that both Mammoth Lakes dispensaries had applied to renew their 12-month Town licenses and that his department was in the process of reviewing those applications.