By Deb Murphy
Despite a strong showing to let Mono County's cannabis business moratorium die December 2, the Board of Supervisors approved a year's extension at last Tuesday's meeting. The logic: the moratorium can be lifted at any time but the County wants to make sure they get this whole pot thing right.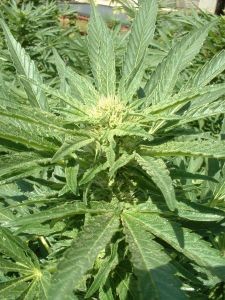 The County followed the Town of Mammoth Lakes' moratorium extension to September 6 and both followed Inyo's moratorium vote earlier this month. The legal logic for Inyo's action was to prevent businesses operating on a state license, in essence, being grandfathered in when Inyo finalized its own county-specific regulations.
But, both Mono and Mammoth have yet to pass a tax on commercial operations. According to Supervisor Stacy Corless, the board is considering a November 2018 ballot tax measure.
The state has issued emergency regulations in effect for the next 120 days. Plans are still a go for state licensing by January 1.
During the Supervisors' public comment period, Eric Edgerton suggested a variation on the state's interim regulations in the form of a provisional permit. This would allow businesses to get in the queue and start the process of getting insurance and security systems. "There's nothing to gain by a delay," Edgerton said.
Considering most of Mono County's abbreviated growing season, potential cultivators were concerned an extended moratorium could virtually eliminate a 2018 crop.
Another suggestion: "decouple" retail businesses from distribution and cultivation operations. Supervisor John Peters asked staff to look into the concept.
The Supervisors stuck to their extension. "To do this right takes time," said Peters. "We've taken the approach to do something."
Peters stressed the County's stance was a sustainable set of regs that wouldn't over-regulate or over-tax cannabis businesses but would still be fair to taxpayers.