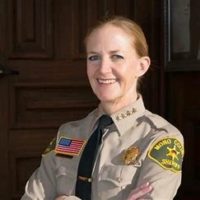 Mono County Sheriff Ingrid Braun requested and the Board of Supervisors approved the implementation of an Automated License Plate Reader system at key locations as well as in Sheriff's patrol cars. Funding will be through a Homeland Security Grant.
"The systems capture a contextual photo of the vehicle, an image of the license plate, the geographic coordinates of where the image was captured and the date and time of the recording," according to the agenda packet materials. Braun explained ALPRs are widely used in urban areas but her department will be the first in the Eastern Sierra to use the system.
She stressed the fact ALPRs are just a "data capturing" mechanism valuable to recover
stolen vehicles or missing persons. The information captured is on a "need to know, not a right to know" basis requiring a law enforcement reason before it can be accessed. Access is through a password-protected system.
The available information does not include any personal information. The registered
owner of the vehicle is accessed through a separate, secure state database, "which is restricted, controlled and audited," according to the agenda packet material.
For obvious reasons, Braun wouldn't disclose the exact locations where the ALPRs
would be set up, simply that they would be in all the main corridors, highways 395, 120 and 6.
During the public comment period, a caller strongly objected, referring to overreach,
totalitarianism and violations of the 4 th (unreasonable search and seizure) and 5 th (due process) Amendments.
The strongest argument for use of ALPRs came when Braun told the Board if the system
had been in place in the Chalfant area the night 16-year-old Karlie Guse disappeared three and- a-half years ago, the Sheriff's Department could have accessed valuable information.