– Mono County press release
Spring has been springing up for weeks now and anglers are itching to hit the Eastern Sierra lakes, rivers, reservoirs and streams. The official fishing season opens Sat., April 25, and despite serious concerns about water throughout California, Mono County is fortunate to be blessed with abundant natural-flow lakes that are sustaining their water levels – positive news for fishing enthusiasts once again this year.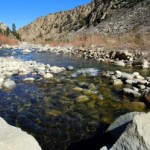 "Mono County's high elevation, snowpack, and numerous natural-flow lakes mean that lake levels, while definitely lower than in non-drought years, remain in good shape for this year's fishing season," said James Erdman, California Department of Fish and Wildlife.
Gary Jones, long-time owner of Silver Lake Resort in June Lake concurs. "Silver Lake is down only about 11 inches this year," he said. "We are looking forward to a great opener and fishing season, as always."
The reservoirs with flow controls, some creeks and rivers are facing the most challenges this season.
"If you love fishing the Bridgeport Reservoir, Grant Lake Marina or the West Walker, come early this year," advises Jeff Simpson, economic development manager and staff member for the Mono County Fisheries Commission. "We are stocking these locations heavily in the early part of the season, so the best time to fish will be during the opener and in May, June and July."
With an annual stocking budget of approximately $125,000, Mono County is set to plant 21 lakes, creeks and rivers with 26,800 pounds of both trophy and catchable trout. The Town of Mammoth Lakes contributes about 15,000 pounds in the Mammoth Lakes Basin and the California Department of Fish and Wildlife will also be doing its part to stock fish in the area.
It is interesting to note that winter fishing has been consistently excellent in areas like the Upper Owens River where catch-and-release fishing is available after the regular fishing season closes Nov. 15 every year (special regulations apply).  According to Sierra Drifters Guide Service's weekly fishing reports, the year-round fishing has been exceptional. Another bonus of the mild winter is that high alpine lakes will be thawed in time for the opener and most roads and campgrounds will be open and accessible.
The season kicks off April 25 with the annual Fishmas Day Celebration at Tom's Place, the Monster Fish Contest at June Lake Loop, and the Mono Village Fishing Opener Derby at Upper Twin Lakes in Bridgeport. The Round-Up at the Lake Spring Fishing Derby at Convict Lake takes place April 26 through June 12.  See 2015 Mono County fishing events on the Mono County website:http://www.monocounty.org/static/index.cfm?contentid=738
About Mono County:
Located approximately 315 miles north of Los Angeles, and 280 miles east of San Francisco, Mono County accesses the east entrance to Yosemite National Park and beckons visitors in all seasons.  Whether taking advantage of convenient direct flights on Alaska from Los Angeles International Airport (LAX), or arriving by car on the all-weather US Hwy. 395, the Eastern Sierra's vast playground is an easily reached destination.  US Hwy. 395, which traverses Mono County from north to south, is a State Designated Scenic Byway offering motorists tremendous vistas right from the steering wheel and countless side-roads, hiking trails, lakes, and roadside villages to explore.  For more information or to request guides, visitMonoCounty.org or call 800-845-7922.