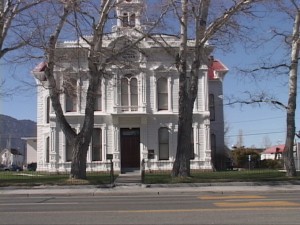 The termination appeal case of a former Mono County Road Department mechanic continues to take twists and turns according to the appellant's lawyer. The case was briefly back in session last week and continued until June 11th.
Katie Bellomo represents fired mechanic Dick Luman in this open and public appeal hearing.  She said, "There has been one unexpected thing after another."  Luman claims that Road Supervisor Brett McCurry had created a hostile work environment and then physically assaulted him.  Mono County fired both men, claiming mutual combat.
Two of three eye witnesses to the incident say McCurry was the aggressor.  A Mono Sheriff's deputy drew the same conclusion but then changed his report when Risk Manager Rita Sherman delivered the County's Insurance Investigator's report.  In that document, one of the eye witnesses changed his testimony from not seeing what happened to saying Luman was the aggressor. Bellomo said she finds it unusual for law enforcement to include a County investigation, which is not a neutral analysis.
Since the start of the hearing, Mono County gained permission to present more evidence.  Bellomo said the County Counsel's office will present a document from the District Attorney who had decided not to prosecute anyone in the Road Department fight.  The closing document on the case listed the incident as mutual combat.  Bellomo disputes this evidence by saying that the DA spoke to just one witness.  Bellomo said DA Investigator Wade McCammond will take the stand again June 11th for more testimony. DA George Booth and Assistant Tim Kendall will also testify.
Another twist in this case – perceived tensions on the appeals board itself. A Mono County employee, Ken Goode, is one of the three appeal hearing board members.  Sources say it was his wife, Cheryl Goode, recently arrested on allegations of misappropriation of funds from the Bridgeport PUD.  The Sheriff's Department investigated and Undersheriff Ralph Obenberger also sits on the three-person panel.
Attorney Bellomo says Mono County has tried to discredit the eye witnesses in this case.  The County did accuse employee Jim Kirby of perjury when he stated that he saw McCurry assault Luman.  He is appealing.  Brett McCurry is also appealing his firing.
More on the Luman case June 11th.  John Vallejo of the Mono County Counsel's Office has declined to comment on this personnel case.