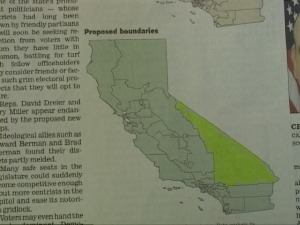 For the first time, an independent panel will review and come up with district lines for state assembly and senate and congressional districts in California. Voters took that job out of the hands of legislators to avoid districts drawn for personal and political advantage. What does this mean to Inyo and Mono?
In terms of the Congressional District, the 25th, represented by Congressman Buck McKeon, it may mean larger expansion to the south.. The Eastern Sierra populous has grown very little compared to the cities. In last Saturday's Los Angeles Times a preliminary map of proposed changes shows a larger district further south. The proposal does not clarify if the larger district would include more cities and people or simply more of the Mojave Desert.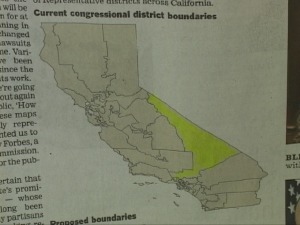 The bigger question – how would this change alter the political persuasion of the 25th District. It has remained predominantly Republican with Inyo-Mono representatives always rising from the Republican Party. The Times says generally that the new districts in California could put Democrats within reach of as many as five more seats in Congress and enough in the state Legislature for the two-thirds majority needed to raise taxes.
Between now and August, the publicly created redistricting commission will take public input, make refinements and adjust boundaries. The results will direct voting for the next ten years. Some say special interests will likely file lawsuits