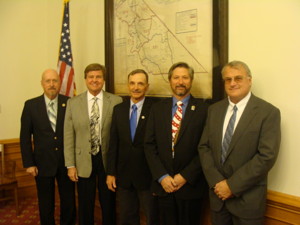 Mono County Board Elects New Officers  (Mono County press release)
Board of Supervisors elect Chair and Vice Chair for 2014
Mono County, Calif. – On Tuesday, January 7th, the Mono County Board of Supervisors elected
Supervisor Larry Johnston as Chair and Supervisor Tim Fesko as Vice Chair.
Mono County Board of Supervisors Chair Larry Johnston
commended outgoing Chair Hunt for his service and commented,
"As our Board looks forward into 2014, our organization is
embracing the challenges and tremendous opportunities we face
as we work to improve services for all Mono County residents and
visitors."
Vice Chair Tim Fesko commented, "It is an honor to serve in this
role and continue addressing Mono County's most pressing
issues."
Outgoing Mono County Board of Supervisors Chair Byng Hunt commented, "I am enthusiastic about
the continued efforts of this Board with the new leadership in place. Both Supervisor Johnston and
Supervisor Fesko will serve our Board and constituents well. Thank you for your support over the past
year and I look forward to working together in the upcoming year."
Both elections took effect immediately with Chair Johnston taking over responsibilities and leading the
rest of the meeting after this action was taken.