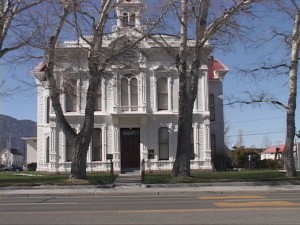 Last week, the Inyo Supervisors approved their new budget of some $88 million with no layoffs. They did accept early retirements and cut positions unfilled. The Inyo CAO fully admits big problems will go on in the future. The Mono Supervisors face approval of their budget Tuesday with the potential for nine layoffs from the Sheriff's Department, Public Works and the District Attorney, plus other cost cutting measures.
In a letter to the Mono Board, County Administrator Jim Leddy and Finance Director Leslie Chapman say Mono continues to face challenges from a sluggish economic recovery and the reality of how the County previously did business. They say, "To transform into a truly innovative and sustainable operation, difficult choices have been made; focus and discipline in our actions is required."
The letter says the CAO Recommended Budget is balanced at $65.9 million which funds 265.4 Full Time Equivalent positions. The budget must be balanced and adopted, say the officials, by October 2nd. But the letter concludes by saying that cost cutting alternatives will have to be in place by September 16th or the budget will require "involuntary reductions or layoffs equal to $490,417." The letter says the "depth and scope remains in our talks with labor unions.
CAO Leddy said the Board would be asked to pass a resolution authorizing nine layoffs which include one Sheriff Sergeant, one Deputy Sheriff II, and one Sheriff Public Information Services Officer. Layoffs also include five cuts from Public Works – a custodian, three maintenance workers and a Parks and Facilities Supervisor. Also up for layoff is a DA Victim Witness Advocate. The CAO said if there are more savings from labor units the number of layoffs would shrink and could be reversed prior to the actual layoff date.
Other cost cutting measures include furloughs or unpaid time off which remains in labor talks, workforce reduction through attrition, re-design of services, and use of the less than expected $1.17 million fund balance left over from last fiscal year. Some money would also be used from the very low reserve fund.