"Eastern Sierra Water: Historic Choices that Shaped California" at Historical Society Meeting April 11
Press release
Author David Carle will present a colorful slide talk, "Eastern Sierra Water: Historic Choices that Shaped California," at the Monday, April 11 meeting of the Mono Basin Historical Society.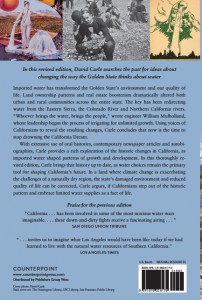 The local water history is part of the statewide focus in Carle's newly revised environmental history book, Water and the California Dream, published by Counterpoint Press.
Meet at the Lee Vining Community Center at 6 PM for potluck dinner and business meeting, with free the program at 7 PM.
Everyone is welcome.
.