Press release
The 1929 movie, "Hell's Heroes," will be shown at the Monday, December 5 meeting of the Mono Basin Historical Society.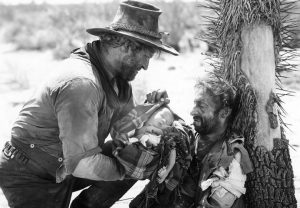 The 68-minute, early "talkie" film will be introduced by Richard Foye at 7 PM, following a holiday potluck dinner at 6 PM. Join us at the Lee Vining Community Presbyterian Church at 3rd and Mono Lake Avenue (a change from the usual venue for historical society monthly meetings).
"Hell's Heroes" was one of five films based on "The Three Godfathers" short story, and was filmed in Bodie before the town's 1932 fire. Bodie exteriors, interiors and even citizens show up in almost half of the movie.
All are welcome to this FREE film showing. Donations to the nonprofit Mono Basin Historical Society are appreciated. Questions? Call 760 647-6461 or email [email protected].