– Press release
The Log Cabin Mine will be the topic of Frank Cassidy's program and video showing at the Monday, February 3rd meeting of the Mono Basin Historical Society, held at the Lee Vining Community Center.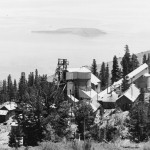 The documentary film, Mine to Mint, tells the story of the gold mine high on the hill above Lee Vining, overlooking Mono Lake. Frank Cassidy, the author of the book, Gold Mine in the Sky: a Personal History of the Log Cabin Mine, will introduce the movie and tell his family story about operating, care-taking, and living at the mine.
A potluck dinner will begin at 6 PM, coinciding with a business meeting. The free program begins at 7 PM. Frank Cassidy, a resident of Bishop and Lee Vining, is on the Board of Trustees of the Historical Society. Call 760 647-6461 or email [email protected] with any questions.
The Lee Vining Community Center is on Mattley Avenue, not far from the Mono Basin History Museum/Old Schoolhouse and world famous Upside-down House, which are operated from May through October by the non-profit Historical Society.