Press release
Author Patrick Armstrong will share stories from his book, The Log of a Snow Survey, Skiing and Working in a Mountain Winter World, at the Monday, May 8 meeting of the Mono Basin Historical Society, at the Lee Vining Community Center.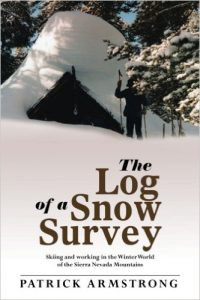 A short business meeting and potluck dinner begins at 6 PM and the program at 7 PM. Patrick Armstrong, a resident of Bishop, has been on the California snow survey team for the last 43 winters. Snow surveyors ski two out of every four weeks during the winter months measuring the water content of the Sierra Nevada's snow pack. From those measurements the State Department of Water Resources determines how much water will be available for California's hydro power generation, agriculture, and domestic use.
This book takes the reader skiing into the mountains with Pat. Subjects covered include ski equipment, practical avalanche prediction, safe winter travel, cabin life, the use and care of wood burning cook stoves, building cabins, wildlife and birdlife found high in the mountains in winter, supplying cabins in the fall, the use of aircraft, the importance of good snow survey partners, a brief history of the snow surveys and the actual work of snow surveying. It also includes many humorous incidents and some deadly incidents.
Patrick and his wife Merry live in Bishop, California during the winters and McCall Idaho during the summers. The author trained on the 1972 U.S. Biathlon team, has been a chemistry and electronics instructor at the College of Idaho, a wilderness supervisor for the Forest Service, a trail building contractor, an Alaskan commercial fisherman and presently he and his wife have a ranch in Idaho. He began doing snow surveys in 1972 and has continued this wintertime occupation throughout his careers.
The Mono Basin Historical Society meets monthly. All are welcome to attend this free program and potluck dinner. Call 760 647-6461 for information or email [email protected]