Press release
TALES ALONG EL CAMINO SIERRA AT HISTORICAL SOCIETY MEETING
David and Gayle Woodruff, the authors of the new book, Tales Along El Camino Sierra will present the history that occurred along "El Camino Sierra," at the Monday, April 3 meeting of the Mono Basin Historical Society.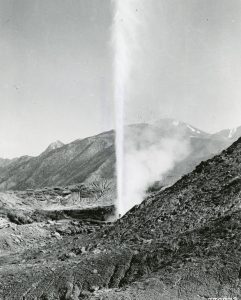 "El Camino Sierra" was the name given to the predecessor of Highway 395 by the Inyo Good Roads Club, as part of a marketing campaign designed to help the Eastern Sierra region get a share of a new State highway road construction bond.
The authors have lived and traveled along the local highway since their childhoods, with a love of history, a deep fondness for their natural surroundings, and a passion for all things 395. Books will be available for purchase and signing at the event.
A potluck dinner and short business meeting begin at6 PM at the Lee Vining Community Center on Hess Drive, with the Woodruff's program beginning at 7 PM. All are welcome to attend this free program and potluck dinner.
Call760 647-6461 for information or [email protected]