Director of the Air Pollution Control District, Ted Schade, said that wood smoke is "the pollutant we are most exposed to that impacts our health." The APCD now has a grant program to help Inyo-Mono residents replace old, inefficient woodstoves.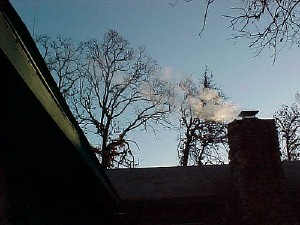 Schade said that old stoves sometimes burn incorrectly which leaves smoke hanging in the air. He added that Mammoth Lakes is the only area with an official, documented problem. The combination of woodsmoke and cinder dust in winter creates pollution that exceeds state standards in Mammoth. Other areas of the Eastern Sierra report sporadic, isolated but heavy smoke problems.
Under the current woodstove replacement program for permanent residents here, APCD will issue an incentive voucher for $500 to qualifying residents who replace their old, non-EPA certified woodstove with a new, cleaner burning EPA Phase II certified non-catalytic woodstove, new pellet stove, new kerosene or new propane heater or stove.
Anyone interested can obtain an information packet from the APCD office at 157 Short St. in Bishop or from their website at www.gbuapcd.org/woodstove. You can also get information from registered retailers or by mail. The $500 vouchers can be redeemed at participating retailers. Call the District for a list.
Funding is available on a first-come, first serve basis. The program ends on April 30, 2010 or when funds are gone. For more info, call 872-8211.