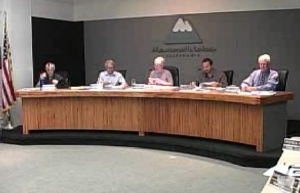 The Mammoth Town Council's attempt at its own stated goal of "discussions of Town finances and the MLLA $43 million judgment" unwound as a kind of re-run of a previous meeting with very little public input.
Town Manager Dave Wilbrecht said there is a "rigorous process" happening with restructuring the Town finances and  mediation with creditors would start soon.  That was nothing new, and details were not revealed. Then, he turned over the discussion to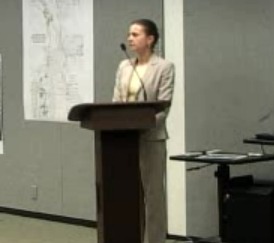 Assistant Town Manager Marianna Marysheva-Martinez.  She virtually repeated what she had said at the last Town Council meeting about low general fund revenues and high costs and how Mammoth's government is already bare bones.  She actually said, "There's no place to cut."  Some observers wondered out loud how the Town could afford to renew Martinez's contract at $4,000 a week.  She herself had said in mid-April that the Town "could not afford the luxury of an Assistant Town Manager."
Martinez went on to describe the Town's tale of woes – no money to maintain roads and other facilities, no money to build facilities and amenities, not enough employees to get work done. She said the general fund sits at $19 million with other funding sources bringing in another $15 million from gas taxes, state and federal funds and local tax measures.  She said to make up next year's $3 million shortfall could require a 14% across the board cut.
Martinez made the vague statement that consultants will present a "holistic approach to balancing the budget and leaving money for MLLA" next Tuesday. She said that the Town's consultants will appear at a May 8th meeting to talk about cash flow projections, a balancing plan and long term forecasts.
The Assistant Town Manager continued to call Mammoth's money situation one of "magnitude."   When asked for public input, only John Morris, Chair of the Mammoth Lakes Lodging Association stood up to support the "power of tourism."  He argued for continuing to spend money on marketing.
With that, the Council members said nothing and adjourned to another meeting next Tuesday, May 8th at 6pm in Suite Z where supposedly more information will become available.
After this week's meeting, citizens wondered what the Town will do when June 30th arrives.  That's the court-ordered deadline for the Town to pay up the whole $43 million debt to MLLA, a company that has expressed no interest in mediation or negotiation recently.