Agents of the Mono Narcotic Enforcement Team made three arrests recently in two separate cases. One incident involved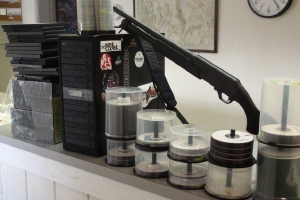 hundreds of pirated DVD movies. The other case deals with methamphetamine.
According to the Mono Sheriff's Department, narcotics agents served a search warrant in June Lake and as a result the two people at the residence now face charges related to pirated DVD movies and duplication equipment.
Officers said that Nicholas Dunahoo, 28 and Kimberly Maddox, 25, both of June Lake, were arrested and charged with manufacturing, copying, selling and/ or renting pirated DVD movies. Agents said the pair possessed several hundred pirated DVD movies, duplication equipment and evidence of the illegal enterprise. Agents also said they recovered a shotgun from the home. Dunahoo also faces an outstanding felony warrant from another county.
In another case, MONET agents arrested a Fresno resident who they allege is linked to a Fresno organization that has "delivered narcotics to Mammoth Lakes in the past." Agents arrested Sergio Pena Cabrera, 24 of Fresno. He faces charges of possession for sale and sales of methamphetamine. Agents booked Cabrera at the Mono County Jail. He also faces an immigration hold by Immigration and Customs Enforcement as an illegal immigrant.