The following is a press release from the Mono County Sheriff's Department:
As part of the campaign of the Mono Narcotic Enforcement Team (MONET) to combat the cultivation of marijuana in Mono County, MONET agents, with the assistance of Inyo County Sheriff's Department, Mammoth Lakes Police Department, U.S. Forest Service, Bureau of Land Management, Drug Enforcement Agency (DEA), Douglas County Sheriff's Department, California Highway Patrol, CAMP, Alpine County Sheriff's Department, Bishop Police Department, Mono County District Attorney's Office,  Mono County paramedics and Mono County Public Works, eradicated a large cultivation operation in Mono County on Forest Service land.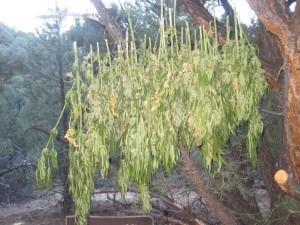 The eradication took place on Thursday, August 25th, 2011, in the Sweetwater Mountain Range in the Toiyabe National Forest. Over the course of 12 hours law enforcement, with the assistance of DEA and CAMP helicopters, eradicated more than 13,000 marijuana plants from several grow sites. The potential street value of the marijuana is approximately $67 million dollars. No suspects were located in the grow sites although multiple camp areas were located along with several weapons and ammunition.
With these types of illegal marijuana grow sites, public lands are routinely desecrated with garbage, piping material, etc. The U.S. Forest Service will go into the area for extensive clean up and restoration due to the destruction of public lands by these cultivators.
MONET agents would like to warn outdoor enthusiasts of the dangers of locating one of these grow sites while enjoying the outdoors. If you see anything that looks out of place such as cleared areas of forest that should not be cleared, fertilizer bags, black plastic pipes, large camps where there should not be, or growing marijuana, please immediately leave the area and note the location, if possible, and notify the appropriate law enforcement agency. These large scale marijuana cultivators are known to be armed and will sometimes protect the gardens at any expense.