The following press release was issued by the Mono County Sheriff's Department:
On Saturday, April 28, 2012, the Mono County Narcotics Task Force (MONET), along with the assistance of the Inyo County Narcotics Task Force (INET), Mono County Sheriff's Department, Mammoth Lakes Police Department, California Highway Patrol, Inyo County Sheriff's Department and the Bishop Police Department, concluded an investigation in Mammoth Lakes into the transportation and sales of methamphetamine.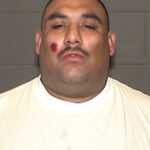 MONET agents arranged to purchase methamphetamine from Hector Pacheco, Jr., age 34, of Ontario, CA. Mr. Pacheco met with the undercover agents and completed the transaction sale. As the transaction was completed, an arrest team attempted to take him into custody. Mr. Pacheco got into his vehicle and rapidly accelerated away nearly striking a member of the arrest team. As Mr. Pacheco fled the scene, he struck a Mono County Sheriff's patrol unit that was attempting to stop him. He fled at a high rate of speed down Old Mammoth Road failing to stop at two controlled intersections.
Mr. Pacheco continued to flee outside of the Town of Mammoth Lakes traveling southbound on to Hwy 203 and onto Hwy 395 at speeds in excess of 100 miles per hour. Law enforcement officers pursued him from Mammoth Lakes to just outside of Bishop. His vehicle was stopped by law enforcement officers using the PIT maneuver (a pursuit tactic used to force a fleeing vehicle to stop). Mr. Pacheco was arrested without further incident and transported to the Mono County Jail in Bridgeport. As a result of the arrest, MONET agents seized a ½ pound of methamphetamine. Mr. Pacheco is currently in custody at the Mono County Jail facing charges of felony evading, assault with a deadly weapon, and transportation and sales of narcotics.
MONET would like to thank all the agencies that assisted with this case. It was a successful team effort.