CalFire news release
Moffat Fire Incident Information:
Last Updated:
April 20, 2018 6:16 pm
Date/Time Started:
April 19, 2018 10:28 am
Administrative Unit:
Unified Command: CAL FIRE San Bernardino Unit, Cal Trans, and Inyo County Sheriff's Office
County:
Inyo County
Location:
Highway 395 and Moffat Ranch Road, north of Lone Pine
Acres Burned – Containment:
1,065 acres – 35% contained
Cooperating Agencies:
United State Forest Service, Beareau of Land Management, California Highway Patrol, CAL TRANS, Inyo Sheriff, Los Angeles Dept. of Water and Power, Lone Pine Vounteer FD
Total Fire Personnel:
449
Total Fire Engines:
37
Total Fire Crews:
18
Total Helicopters:
2
Total Dozers:
3
Total Water Tenders:
10
Long/Lat:
-118.08449/36.71537
Conditions:
Moderate fire behavior overnight with backing, wind driven runs. This morning, light visible smoke over portions of the fire, crews increased containment over night.For more information visit CAL FIRE San Bernardino-Inyo Unit Twitter

1/20/18 8 AM- See the latest Incident Update for more information.
###
Moffat Fire Incident Information:
Last Updated: April 19, 2018 6:21 pm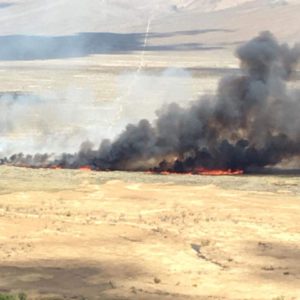 Date/Time Started: April 19, 2018 10:28 am
Administrative Unit: Unified Command: CAL FIRE San Bernardino Unit, Cal Trans, CHP, and Inyo County Sheriff's Office
County: Inyo County
Location: Highway 395 and Moffat Ranch Road, north of Lone Pine
Acres Burned – Containment: 1,050 acres – 15% contained
Road Closures: All roads are reopened.
Long/Lat: -118.08449/36.71537
Conditions:
For more information visit CAL FIRE San Bernardino-Inyo Unit Twitter