The recent wet weather has brought a boost to the snowpack especially in the southern Sierra, but will there be enough rain in the deserts to spark a spectacular spring wildflower bloom?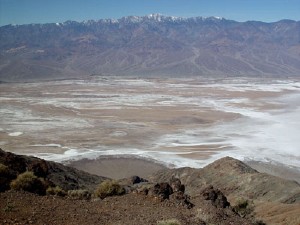 Rangers with Death Valley National Park say that its too early to know for sure what kind of bloom will arrive this spring, but if the winter keeps up visitors should expect a moderate wild flower bloom.
In 2005, visitors flocked to Death Valley after a wet fall and winter led to a wild flower display that completely changed the look of the park. Park staff reports that there were no major rain events in the fall, so staff doesnt expect a wildflower bloom like 2005. For 2010 there has been just under three inches of rain near Scottys Castle and about an inch and a half at Furnace Creek. According to park staff, while the northern and southern end of the park have had significant rain events so far this winter, there hasnt been enough to produce much of a bloom without additional rain. The rest of the park has been very dry, with less than 0.10 of an inch of rain accompanied by many days of drying winds.
The winter is not yet over and more rain is possible. Charlie Callagan with the National Park says that park staff is, currently cautiously optimistic, but adds that if there is a bloom, it will be late. Here in the Owens valley, the ground has already started to green up. Callagan says that he too is starting to see a large quantity of green sprouts from wildflowers starting to come up.
An El Nino influenced winter may help out. Park staff explained that the El Nio weather pattern is often responsible for bringing significant rain to the Southwest and the Death Valley area. Often these rains do not start until late January to early February. In other words, it is still possible to have a spring wildflower bloom, but if the rain does not come it is unlikely we will see many flowers.
You can keep track of the wild flowers by visiting the Death Valley National Park website.